Learning to play the piano these days does not necessarily require a physical piano. Virtual piano software is convenient, sounds great and has tons of customization & connectivity features.
Depending on the virtual piano app, it can work on web browsers, different operating systems and different types of devices, such as mobile phones and computers.
What are the Best Virtual Piano Keyboard Software?
Here are the nine (9) virtual piano software apps you can use to learn and play music.
---
| Works on Web Browser |

Virtual Piano Simulator is a realistic-looking browser-based piano instrument that is good at mirroring the distribution of white and black keys in a real piano.
When playing piano songs, users will realize that all five octaves are available for them to use. Users can also record and save their own music compositions. Sharing with friends and family is also accessible with invitation links.
Key Features
Adjustable sound and tempo using Sustain, Metronome, Transposition, and Tempo buttons
Free Interactive songs to choose from
Ability to access additional musical instrument sounds such as Organ, Harpsichord, Harp or Synthesizer. 
Realistic 3D keyboard
Capable of playing up to 64 simultaneous notes
---
| Works on Web Browser |

Virtual Piano allow users to learn how to play the piano in a quick, easy and enjoyable manner. The software turns your computer or mobile device keyboard into a piano keyboard, containing letters corresponding to the keys from a QWERTY keyboard.
When playing a song, you can press both the black and white keys together at the same time. In addition, there is a scroll bar under the keys to allow users to play all the octaves of a grand piano.
Key Features
Do not require users to know how to read music notation
Thousands of free music sheets
Maps QWERTY keyboard to piano keys
Credit, edit and refine customized music sheets
Choose from 24 different classical instruments, such as Violin, Saxophone and many more.
---
| Works on Web Browser | iOS | Android |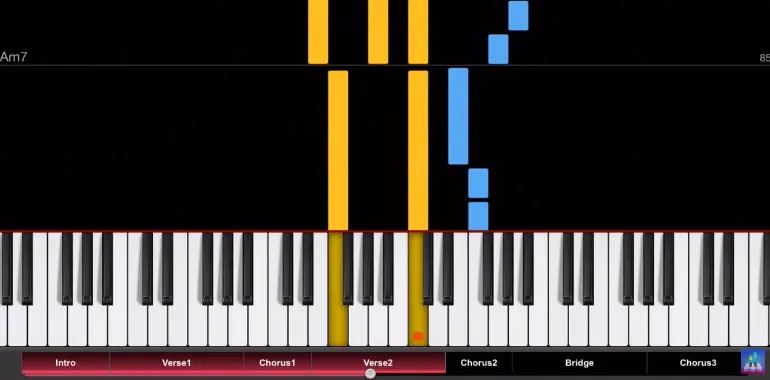 Online Pianist simulates a real piano keyboard with 7 1/4 octaves of 88 keys, a Metronome, a sustain pedal and many others. Unfortunately, for mobile devices, only five octaves are available.
Key Features
Real keys mode – corresponding computer keys for the middle octaves & piano keys of a real piano
Simulate a piano's sustain pedal
Adjust the Metronome based on BPM (beats per minute) or time signature
Using the letter notes feature to display ABC or DoReMi letter notes on the piano keyboard keys
---
| Works on Web Browser |

Virtual Piano from Virtual Drumming enables users to learn chords and scales when they do not have a real piano.
Users can quickly learn music theory or try out random melodies that come to mind with this online tool.
Key Features
Record your song track up to a maximum of one minute
Automatically play the major and minor triads for every single note on the piano keyboard
Playing scales, such as Major, Natural Minor, Harmonic Minor, Melodic Minor, etc
Piano pedal simulator that allows users to play short notes by releasing the keys
Metronome feature for learning to play the piano keyboard, keeping time
---
| Works on Web Browser |

Apronus Virtual Piano enable users to use their keyboard to play on their virtual online piano simulator. Each key on the piano keyboard from C3 to C5 can be played by pressing an associated key on the computer keyboard.
The keys from the keyboard A, S, D rows and the Z, X, C rows are programmed to play white key chords for rich melodies.
This is an offline version of the virtual piano as well.
Key Features
Create a custom-made chord button
Configure buttons to be associated with a computer keyboard key
Ability to record and playback
Savings recordings to a local drive
Bookmarking chords by generating a link that encodes all the chords from your buttons
---
| Android |

Perfect Piano is an intelligent piano simulator developed for Android phones and tablets. With built-in authentic piano sounds, the app can teach users how to play the piano and be entertaining at the same time.
After installation, users can have a widget on their home screen to quickly play the piano without opening the app itself.
The app supports Timbre plugins such as bass, electric guitar, saxophone, etc. and has an 88-key piano keyboard.
Key Features
Support USB MIDI Keyboard
MIDI and ACC audio recording
Multiplayer Connection & Competition (real-time chat and challenge)
Three play modes: autoplay, semi-auto play, note pause
Left & right-hand setup
A->B loop
---
| Android |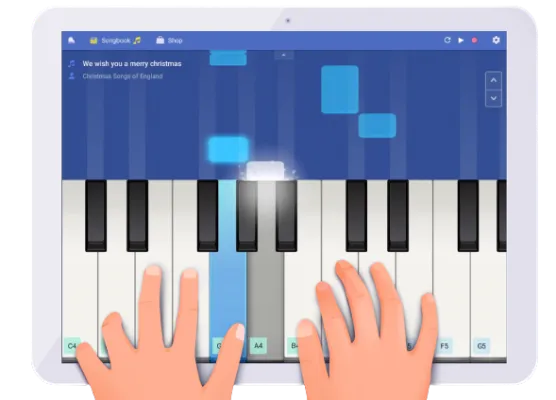 With more than 50 million downloads, Piano+ is one of Android's most popular virtual piano apps.
The virtual piano app has an impressive sound to mimic that of a grand piano while allowing users to compose their own music after playing and learning using the 88-key piano app.
Key Features
MIDI keyboard recording, allowing the creation of own MIDI files to share with the community
Huge music library with lots of classical piano songs, kids' songs, pop and many more
Daily challenges to unlock themes and customization
---
| For iOS | For Android |

Virtual Piano is a simple, easy-to-use mobile app that supports iOS and Android devices.
It has over one million+ downloads on the Play Store and App Store with plenty of positive reviews.
Key Features
Pedal for changing the instrument's sound
Three instrument sounds: piano, banjo, toy piano
Pitch correction
Zoom buttons for zooming in and out for piano keys
Adjustable octaves
---
| For Mac and iOS |

Piano for Mac and iOS is a classic piano app that allows users to learn and play thousands of songs on a virtual piano.
Users can import their popular songs and music sheets into the app and learn with the 88-key virtual piano.
The piano app also offers a Metronome, pedal, dual scrollable keyboard and supports a USB MIDI keyboard and Bluetooth MIDI keyboard.
Key Features
Connect to a MIDI-Keyboard via USB / Lightning cable or Bluetooth MIDI Connect
Use the keyboard as an output device to play the MIDI-Files 
Show notes and sheet as song timeline
View sustain-pedal events and sustained notes
Customize colours, effects, instruments and much more
---