Telegram app has a Secret Chat feature for users requiring additional privacy measures when communicating.
How different is Secret Chat from the usual regular Telegram chat?
Secret chats are device-specific. As long as your physical device is not compromised or lost, the privacy of your conversations is very much secure.
This article will focus on the key differences between Telegram's Secret Chat and its normal chat feature.
What is the difference between Secret Chat and Normal Chat in the Telegram app?
As mentioned earlier, the use of the Secret Chat feature is for additional privacy reasons and
Here are the nine (9) key differences when using the Secret Chat feature in Telegram.
---
1. Self-Destruct Timer
Self-destruct timer can be set as 1-15 seconds, 30 seconds, 1 minute, 1 hour, one day, one week or simply disabled.
This feature, once set, will auto-delete all messages and media in the Secret Chat based on the set timer AFTER the receiver reads the message.
The message and media will disappear from both the sender and receiver's device.
To set a self-destruct timer, go to the chat between you and the person and tap on the person's name (top menu). You will see an option <Self-Destruct Timer>. Choose a set timer here.
---
2. Secret Chats not stored on Servers
Telegram stated in its privacy policy (Paragraph 3.3.2) that it does not store secret chat messages and log files on its servers.
This means you can only access the secret chat chats from your own device, not from the cloud since it is not stored there.
---
3. End-to-End Encryption (E2EE)
Only Secret Chats uses end-to-end encryption (E2EE). This means only the sender and receiver can see the chats and media.
Telegram regular chats are NOT E2EE. it uses client-server/server-client encryption and is stored encrypted in the Telegram Cloud.
Therefore, it helps sync across different devices. In short, without E2EEE, the company is technically capable of viewing your messages on its servers.
---
4. Encrypted Media
When sending media using Secret Chat, they are encrypted with a separate key before uploading to the servers, with the key only known to the sender and receiver.
Therefore, Telegram will not be able to decipher your media file since the decryption keys are unavailable to the server.
---
5. Unable to Screenshot
Since secret chat is designed to be more privacy-focused, Telegram forbids taking screenshots and screen recording for Android users.
For iOS users, the sender will be informed if the receiver is making a screenshot.
---
6. Unable to Sync across devices
You cannot sync across devices for secret chats since it operates on end-to-end encryption, and there is no cloud storage.
However, you are still able to sync for regular Telegram chat messages.
---
7. One-to-One conversation
Secret Chat is designed for only two parties, i.e. the sender and the receiver. Therefore, adding more than two members to a secret chat is impossible.
While normal Telegram group chats can accommodate 200,000 members and Telegram Channel can accept unlimited members, secret chats are only for one-to-one conversation.
---
8. Unable to Forward
Forwarding Secret Chats is impossible since it is designed to be private and between only two parties.
---
9. Synchronized Deletion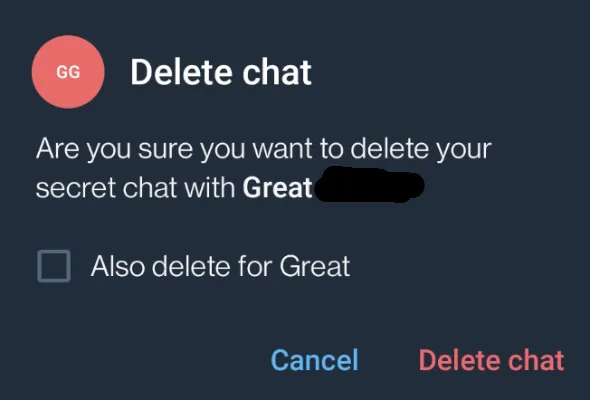 When you delete a secret chat with someone, the same conversation can also be automatically deleted from the other party's device, as long as you tick the option that says <Also delete for "person">
It is a synchronized one-time deletion action activated by either side.
---
How to start a Secret Chat with someone in Telegram?
For Android devices, open the Telegram app, click the Compose button (bottom-right of the screen), select <New Secret Chat> and choose your contact name.
For iOS devices, open the Telegram app and select your contact name. Next, tap on the three (3) dots on the top-right of the screen and choose <Start Secret Chat>.