There are times when you want to create a screenshot of a fake WhatsApp conversation between two persons or more, especially in a group chat setting.
This could be part of making a funny prank or is used as a prop in a video or movie.
There are several websites and third-party apps that can allow you to write, generate fake conversation messages, and simulate two (2) or more persons communicating using WhatsApp.
This article will list down the different ways you can use to create a fake WhatsApp group chat.
How to Create a Fake WhatsApp Group Chat?
Here are the five (5) ways to do so.
---
Method 1. WhatsMock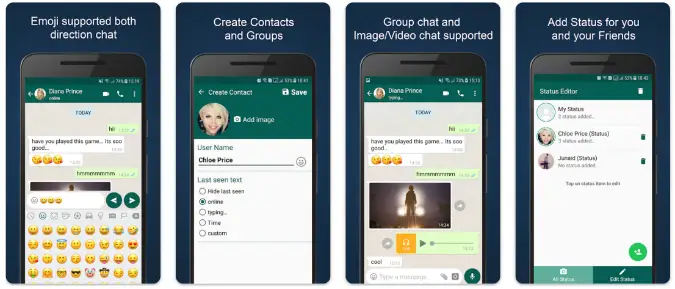 This Android app can allow you to create and generate multiple fake users engaging in a WhatsApp group chat.
Some of the WhatsMock features are;
Create a Group chat and add multiple fake participants by giving them names.
Ability to add images and play videos inside the group chat
Create contacts with profile pictures and add their last seen status, e.g., online, typing, custom.
Add a real contact from the phonebook in the fake WhatsApp conversation.
In addition, you can use the app to fake an incoming or outgoing WhatsApp voice call by having a realistic-looking calling screen.
When creating an incoming fake voice call, you can pretend to pick up the call, and there will be a realistic call timer running in the background.
---
Method 2. Zeoob

Zeoob provides a realistic WhatsApp chat design and allows users to create as many fake chats as they want.
The WhatsApp chat generator allows you to choose a fake WhatsApp layout for iPhone or Android.
Some of the main features include;
Add a custom background image to your fake WhatsApp chat.
Option to use built-in emoji or add emoji from your own device
Add a profile picture
Choose the message status (e.g., seen or unseen) for each message
Chat images are saved in PNG image file format.
---
Method 3. Fake WhatsApp Chat Generator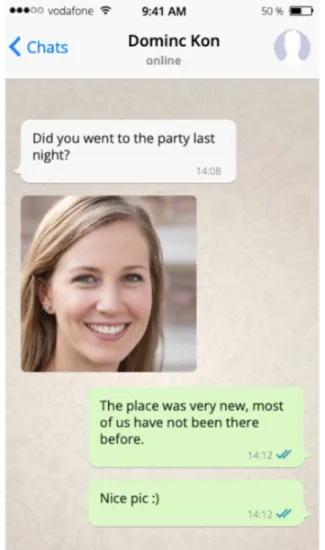 This web-based site allows you to create fake conversations that look like WhatsApp chats.
You can use any web browser to access the Fake WhatsApp Chat Generator webpage. The output given will be in the form of a PNG image file.
There are a lot of customization to perform here, including;
Phone Settings – editing the name, online status, profile picture, operator name, phone clock timing, etc
Battery Options – battery percentage level
Connection – e.g., WiFi, 4G, signal level
Chat Messages – adding the message content, adjusting the timestamp, and message status (e.g. Read, delivered, etc)
---
Method 4. Fake Chat App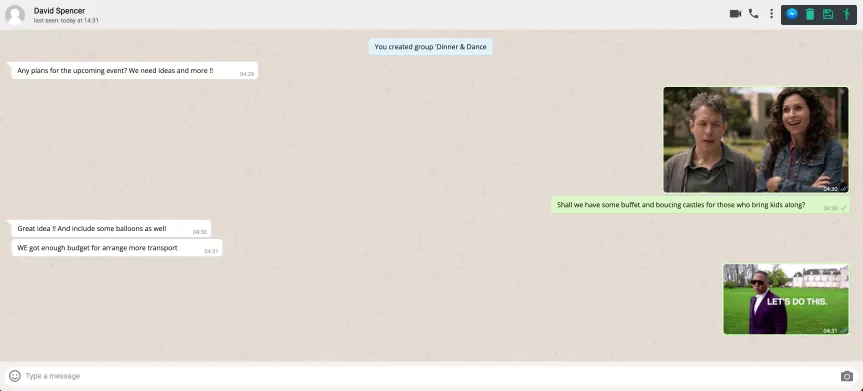 Fake Chat App is a web-based site that you can use using your web browser.
You can use the site to generate fake WhatsApp chat conversations by changing the name and profile picture of your conversation partner.
Some of the main features include;
Easily drag images into the group chat window to attach it
Write fake messages as the user, the other party, or an admin in a group chat setting.
Ability to add a wide range of built-in emoticons
Change the timestamp of each message.
---
Method 5. FakeDetails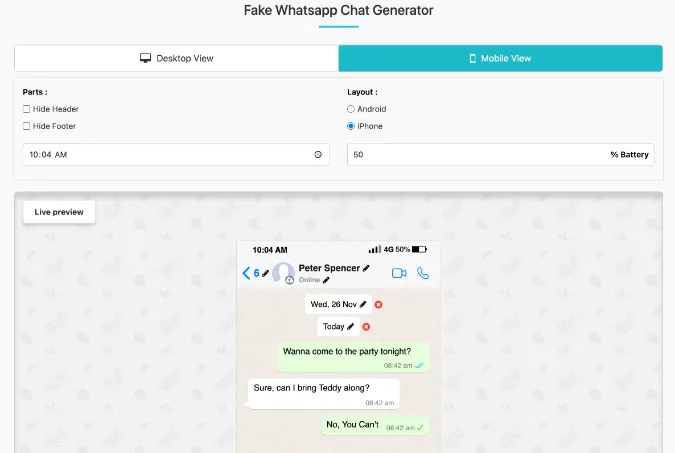 FakeDetails offers an online generator for creating various fake screenshots, including WhatsApp Chat and WhatsApp Video Calls.
One of the key features is its ability to create fake WhatsApp chat using either an iPhone layout or an Android layout.
This is especially useful if you want to have both layouts for pranking purposes.
Some of its features include;
Option to hide or un-hide the header (i.e. time, battery level, network status)
Edit the name of the fake user
Edit the online status
Edit the chat conversations of both parties
You can export the final fake output image as a PNG file format.
---