WhatsApp supports various popular file formats, including video formats such as MP4, AVI, MOV, MKV, and 3GP, and document file types such as Word, Excel, and PDF formats.
When sending attachments, the maximum file size per attachment allowed is 16 MB.
Sometimes when you attach a file, WhatsApp will give you an error message that says;
"The file format is not supported."
This could be due to several reasons, and there are surely workarounds you can do to ensure that your file gets delivered to your intended recipient.
This article will list down all the different methods you can use to fix this WhatsApp error message.
How to FIX WhatsApp File Format Not Supported Problem
Here are the seven (7) ways to do so.
---
Method 1. Check the list of WhatsApp Supported File Formats
WhatsApp supports various popular file types, including video, audio, and document formats.
The common ones most people will be using are;
Video formats such as MP4, AVI, MOV, 3GP
Audio formats such as MP3, WAV, AMR
Image formats such as JPEG, PNG, WEBP
Document formats such as DOC, PDF, and TXT
Always refer to the full list of supported WhatsApp file formats and check if your file is listed there.
---
Method 2. Convert it into a different File Format


The best way to convert the file into a supported file type format.
This method ensures you can successfully send the file to your WhatsApp recipient.
There are several ways to do so.
Using an Online Converter
When the file itself is not sensitive (e.g. non-official work document or personal file), you can convert it by uploading it onto online converters services.
Installing a File Converter
When the file is personal and sensitive in nature, you will want to use an offline application that can be installed onto your computer.
You can consider any of the following;
---
Method 3. Upload the File Online
You upload the file online to a cloud storage service and send the URL link via WhatsApp to the recipient.
The recipient will download and play the file via a third-party media or document viewer. This can be easily installed on both mobile and computer devices.
You can consider using the following file-hosting services;
---
Method 4. Changing the location of the file
The file's directory path may cause certain problems with WhatsApp.
To rectify this problem, you must change the file's location on your device. You should move it to another main directory, e.g. under the Downloads main folder.
To change a file's location in Android, use the native File Manager app or use 3rd party apps like Google Files or ES Explorer.
Open the File Manager app.
Navigate to the file's location.
Choose <Move to>
Navigate to your new directory location and click <Move here>
Your file has now changed to a new directory location.
---
Method 5. Update WhatsApp version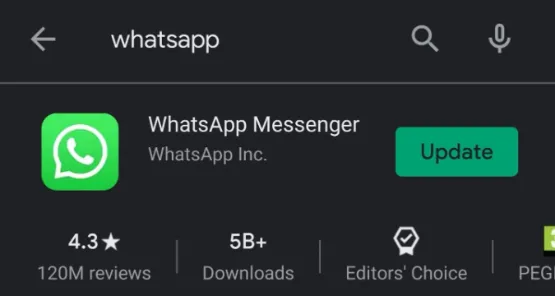 Upgrading WhatsApp can fix technical bugs and introduce new features to the app.
This can involve having newer supported file formats for sending attachments in WhatsApp.
To update your WhatsApp;
Go to PlayStore or AppStore
Search for "WhatsApp"
The option to update will appear if there is a new version release
---
Method 6. Is the File stored in an External Storage Media
Sometimes the file you intend to send is a corrupted file or is an incomplete file due to an earlier download error.
If the file resides in your device's external storage space, such as a microSD memory card, you may want to open the file using another computer to test it out.
This is to ensure that the file is in good working condition. This can be a video, audio, or document file.
If the file is corrupted, you should attempt to repair it or replace it with a new one.
---
Method 7. Correcting Device Date & time
When your device has an incorrect system date and time, this can cause your apps to crash or not to be working properly, including WhatsApp.
Devices with incorrect dates and times can have conflicts with WhatsApp servers, resulting in many app failures.
Make sure your device is in sync with the right date and time
Correcting System Date & Time on Android
Go to Android Settings
Search the word "time zone" using the magnifying glass icon
Click on <Use network-provided time zone>
Make sure both options are ON for <Use network-provided time> and <Use network-provided time zone>
Check that your time zone is set correctly to your country.
Correcting System Date & Time on iPhone
Go to iPhone Settings
Select <General>
Click on <Date & Time>
Turn ON <Set Automatically>
---