When using the Telegram app, specific mobile numbers have been found to have been subsequently disallowed and banned from using its service.
This banned situation could happen to any existing Telegram user or someone who wants to register for a new account.
The banned message says;
"This phone number is banned."
Typically, this happens when the mobile number is found, suspected, or reported to have violated Telegram's terms of service.
Depending on the type of violation, it is likely that someone had reported your number to [email protected] or [email protected] or directly on the app itself.
Reasons for Telegram banning mobile numbers
Several account behaviors and third-party reporting actions will result in your account being banned. Here are the most common ones below;
Previous Owner Ban: If you are using a new number, chances are that the last owner of this number had gotten themselves banned from Telegram.
Suspicious account logins: E.g., keying wrong passwords multiple times and Telegram will safeguard your account from being hacked by banning and locking your account.
Reported for Harassment: Your account/mobile number has been reported for stalking/harassment-related activities
Reported as having sexual content & nudity: Promoting or sharing illegal and inappropriate materials.
Engaging in illegal activities: This can be, for example, the selling and buying of drugs and involvement in Ponzi schemes.
Discriminatory views: Spreading falsehood information and hate speech.
This article will focus on what you can do to resolve the problem when Telegram bans your mobile number, making you unable to recover your account or register for a new one.
How to Fix and Recover Account from Telegram Banned Number?
If you believe your Telegram number has been mistakenly banned, you can use the seven (7) methods here to recover your account.
---
Method 1. D.M. to Telegram Support Team on Twitter
Send a direct message (D.M.) to the official Twitter account of Telegram Login Help.
This account belongs to the Telegram Messenger Support Team, which deals with wrongful bans.
All you need to do is to D.M. the Twitter profile and provide them with your telegram username or phone number associated with the account.
---
Method 2. Use the "Help" option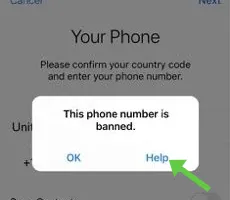 Click the <Help> button below the error message.
This will open your email, allowing you to compose and explain our situation to the Telegram support team.
Be prepared to wait between 12 – 24 hours for their response.
---
Method 3. Email Telegram
Email Telegram stating your banned situation and explaining that you did not violate any of their terms of service.
You can send it to either of these three (3) email addresses (or include them in the email cc list);
The waiting time is generally between one (1) to five (5) working days.
Make sure you check your inbox regularly.
---
Method 4. Ask a Telegram Volunteer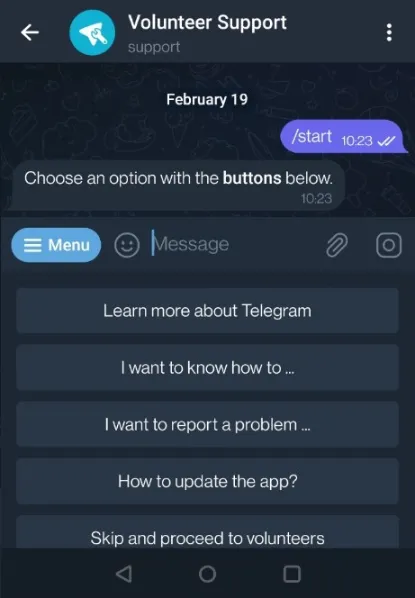 You can reach out to any of the Telegram volunteer support members.
These are people who volunteer their assistance to help others when they encounter any technical issues.
Find them via;
Open Telegram app
Go to Settings > Ask a Question
Click <Ask a volunteer>
A chatbot will appear with options you can choose. Select the issue you face to begin the chat with a Telegram volunteer.
---
Method 5. Write to Telegram Support Page

Telegram has a dedicated Support Page on its website for users to report technical issues and difficulties.
From here, every user's issues will be diverted to the relevant departments to look into.
You can use this webpage to submit your request so that the correct technical staff can look into your matter.
---
Method 6. Get a new Virtual number
Sometimes after trying all methods, the next best way is to register for a new Telegram account while waiting for Telegram's reply to arrive.
One helpful way is to get a virtual mobile number without needing a physical SIM card.
Hushed
Hushed offers several features, including call forwarding, custom voicemail greetings, receiving SMS verification codes (OTP), and making and receiving phone calls.
This secondary line app allows users to quickly get their chosen mobile number, e.g., in seven days.
This is suitable for those who want to register accounts for a short period.
Install the Hushed app on your mobile phone.
Choose the country of the mobile number you want, e.g., from Canada or the U.K.
Every purchased mobile number is renewable before the expiry date.
Online SMS Service
Certain online web services offer free temporary mobile numbers for receiving SMS text messages.
Since these virtual numbers are free to use on their websites, you can use them to receive OTP codes and register for a new Telegram account.
Here are some reliable sites where you can receive SMS OTP codes.
---
Method 7. Wait for the Ban to be Over
Lastly, if you can afford to wait and you do not want to lose that account, the logical way now is to wait for the ban to be over.
This is provided that you have already used and tried all the abovementioned methods.
Based on users' reports that they had reinstated back their accounts through unbanning, the unbanning duration can range from a week to a few months.
---