When watching Youtube videos, you can also download and export all the Youtube comments that come with them, usually in Excel (XLS) or CSV file format.
There are several different ways to do so, each having its own strengths and limitations.
Depending on your preference and needs, this article will list down all the methods you can use to export Youtube comments from its video.
How to download Youtube Comments
Here are the five (5) different methods you can use, depending on your preference,
---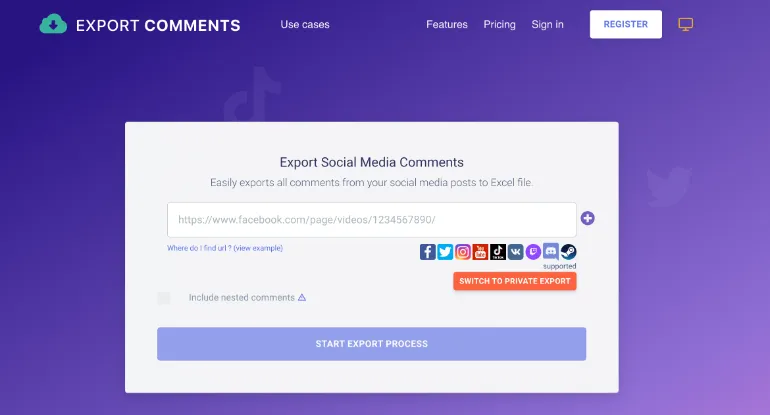 As long as it is a public Youtube video, you can copy the URL and paste it into ExportComments, and it will export out all the available comments.
ExportComments is free to use and is limited to a maximum of 500 comments. To increase the limit, three (3) different paid versions allow users to export up to a maximum of 250,000 comments per export.
Users can export for output in Excel or CSV file format.
Key Features
Include exporting of nested comments (comments within comments)
Support exporting of most international languages
Support Youtube, Facebook, Twitter, Instagram, Tiktok, Discord and many more.
---

Youtube Comments Downloader is a straightforward tool that automatically expands all the nested comments to display for you.
Copy and paste the URL of the Youtube Video, and this online extraction tool removes all videos, images and ads and displays only all the Youtube comments in their raw form.
From there, you can either print it and save as PDF format, print it out as physical printouts, or save it as a webpage HTML file.
---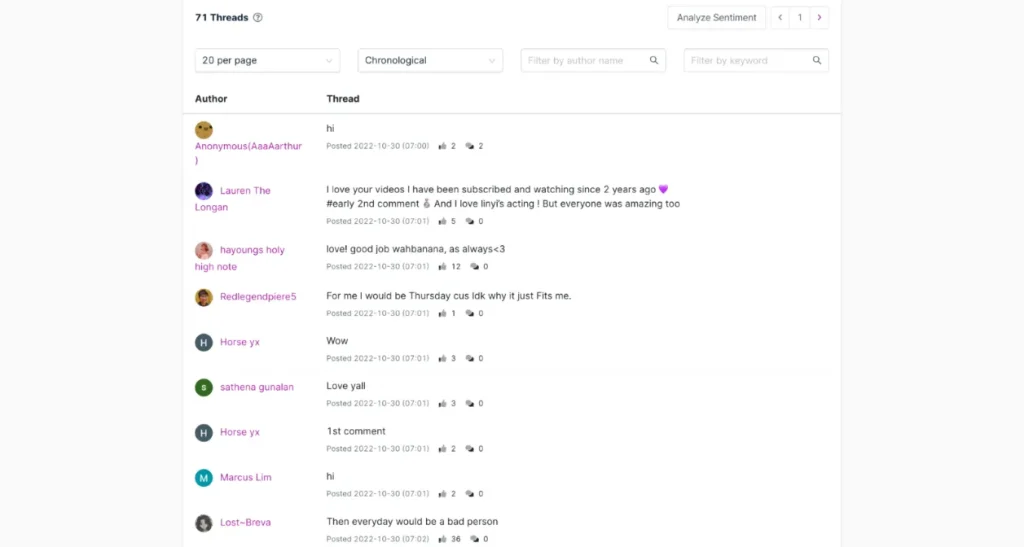 Coberry is an online service that helps you export Youtube comments, add Youtube videos as campaigns, and add tags to those campaigns to monitor a group of assets for statistical reporting.
After exporting comments, Coberry allows users to export as CSV files or in Plain Text format.
Key Features
Analyze sentiments to know the tone of the audience
Sort by chronological order, most like or most commented order
Filter by keyword
Filter by commentor (author)
---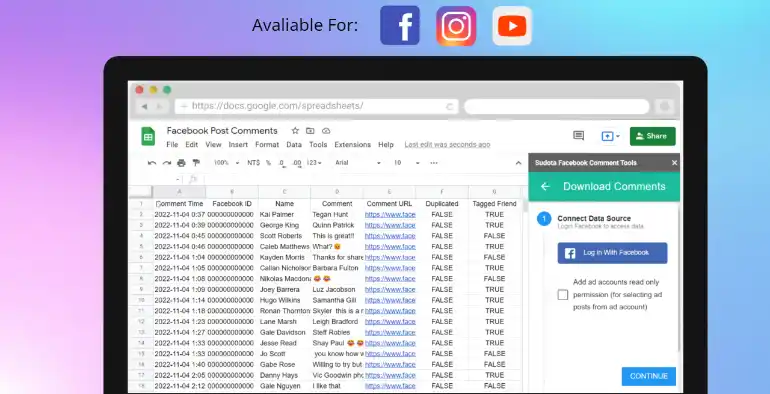 If you are the owner of your Youtube channel, Instagram business page or Facebook business page, then Sudota Comment Tool is suitable for you.
This Google Sheet extension tool allows you to export Youtube comments on your Google Sheets instantly, and you can also reply to those comments from there.
Key Features
Auto-stream Facebook / Instagram comments or reactions to your Google Sheets
You can search posts with post links or select from your published post
Refresh new comments to the downloaded sheet
---

Botster is an online service that runs a variety of custom bots, including a bot for extracting Youtube comments.
The maximum number of comments it can extract and download is capped at 500,000. Botster is free for the first try and subsequently runs on paid credits model. Depending on the extraction volume, users may have to pay for more extraction.
Extracted Youtube comments can be in the form of Google Sheets, Excel, CSV or JSON file format. The output will also include specific details such as user nickname, comment date, comment upvotes and more.
---
Why can't some Youtube Comments be downloaded and exported?
Here are the three (3) main reasons why some Youtube comments cannot be downloaded and exported.
Comments from Private Users
Youtube comments made by private users cannot be exported out. This is due to Youtube's security policy.
Spam Comments
When Youtube comments are filtered and marked as spam, these comments cannot be exported and downloaded as well.
Suspended or Disabled Accounts
When a Youtube account has been suspended or disabled, all the previous comments made from this account will also be affected.
---