Orion browser, by Kagi, is a macOS and iOS web browser that is a privacy-respecting, true zero-telemetry browser and aims to be lightning fast in terms of the web browsing experience.
Currently, in the beta version, the web browser aims to be version 1.0 ready by the end of 2023.
How to Install Orion web browser on Mac?
Here are the five (5) easy steps to install and ensure that the Orion web browser is ready to be used.
---
Step 1. Go to the official Orion website
The first thing you need to do is to go to the official website of the Orion Browser by Kagi.
Click on <Download Orion beta> on the homepage to go to the downloads page.
---
Step 2. Choose your macOS/iOS version
On the downloads page, you will choose and download the version based on your Mac operating system version.
The Orion web browser supports the following Mac versions;
macOS 13.0 Ventura
macOS 12.0 Monterey
macOS 11.0 BigSur
macOS 10.15 Catalina
macOS 10.14 Mojave
You can get your Orion web browser directly from the Apple App Store for iPhone and iPad.
Click on the version and download it onto your Mac.
---
Step 3. Install the dmg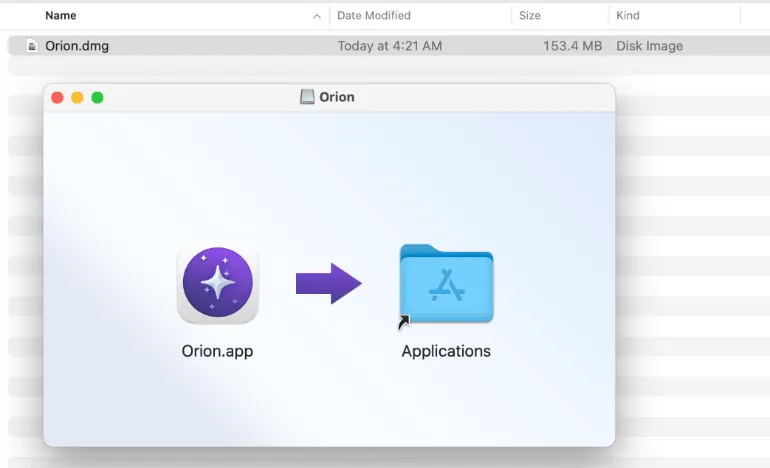 Double-click the <Orion.dmg> file, and the installation dialog box will appear.
Drag the <Orion.app> icon to the <Applications> folder so the installation can begin.
---
Step 4. Ensure Installation is Successful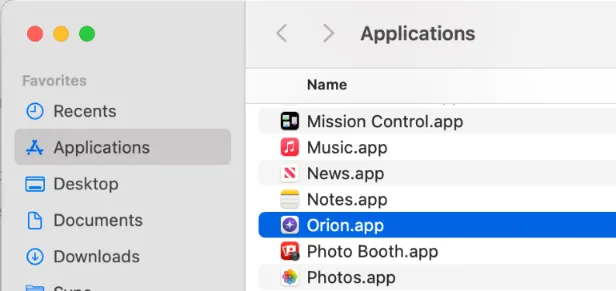 Open the Finder.app and go to the Applications folder (on the left pane) and scroll down to ensure that Orion.app is present.
If it is there, this means the Orion web browser is installed successfully,
To finish the whole installation process, eject the Orion installer, found at the bottom left-hand side of the Finder.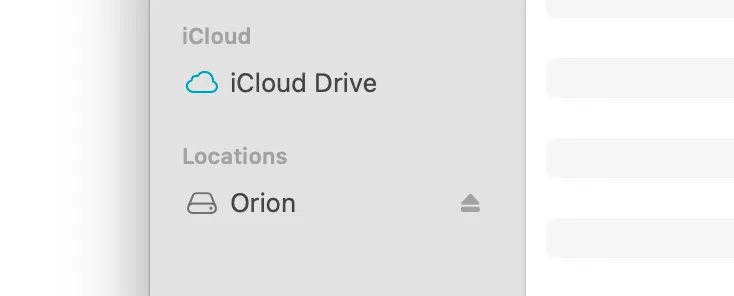 ---
Step 5. Open Orion Web Browser
Lastly, it would be best to open the Orion web browser to ensure everything is installed and working fine.
On your Mac, click on the magnifying glass icon on the top right (Spotlight Search) and type in the word "Orion".
You will see <Orion.app> appear on the list. Click <Enter> to open it.
Click <Open> if you want to open the app.
On your first startup of the Orion web browser, click on the address bar on top to choose a default search engine, for example, manually, https://www.google.com.
---