Most sites will advertise certain VPN services that claim to be working in Mainland China (PRC), but in reality, they have never visited China before and are just recommending you buy certain VPN services.
Most of those VPN recommendations (if not all) will not work when you are physically there.
These VPNs cannot bypass the restrictions set by the Great Firewall of China, a state-regulated internet censorship mechanism.
And it will be too late when you are physically there because there is simply nothing you can do.
Blocked Sites in China
Some of the web services you cannot use in China include;
All Google services, e.g. Google Search, Gmail, YouTube, Google Drive, etc
Most Cloud storage services, e.g. Dropbox, PCloud, OneDrive, etc
Social apps, e.g. Facebook, Instagram, Twitter, TikTok, etc.
TikTok is the subsequent international version of the original Chinese app called DouYin (抖音). You can install and use DouYin in mainland China.
Using a reliable, secure and working VPN service will allow you to surf the web as usual.
I have personally visited China several times in the past five (5) years for leisure and business purposes, and I have always had to test and use several VPN services over all these years.
The places I visited include Beijing (The capital), Guangzhou, Wuhan, Chengdu, Shanghai and Liaoning.
My experience in China has taught me to be prepared since the Great Firewall of China is constantly updating its security capabilities for censorship and blocking VPN protocols and services.
Here are the preparations you need to do BEFORE you arrive in China.
Things to Prepare BEFORE Arriving in China
It would be too late if you had already arrived in China without following the steps below.
When you open up App Store or Play Store in China, there will not be any VPN apps available for download.
Therefore, it is of utmost importance to prepare beforehand.
Here are the preparations you need to do first before the China trip.
Step 1. Install 6 to 7 different VPN services
Install all the VPN services listed in this article onto your device (mobile and computer). Do this before you travel.
You want to have more options and increase your chances of success in bypassing the Great Firewall of China rather than just depending on just 1 or 2 VPN apps.
Depending on the firewall security updates, some VPNs may work, and new updates may block some.
Most VPN services have free plans, and you do not need to subscribe to paid plans unless you want more bandwidth and use it on multiple devices. If so, you must subscribe to the paid plans BEFORE arriving in China.
Step 2. Register New Accounts
Ensure you have registered new accounts for these VPN services and remain logged in.
This typically means signing up with your email account.
Step 3. Prepare a China-friendly email address
Gmail and Yahoo mail are blocked in China.
You should signup for an email account that can be used in China, just in case.
Email addresses are essential for signing up for new apps or services while you are in China. Therefore, it is good to prepare one email account.
The recommended email accounts to use are Microsoft Outlook email, 163.com and QQ.com.
Step 4. Install Tor-enabled browsers
Install Tor-enabled apps on your device.
This would be the backup plan for web surfing if all VPN services failed in China.
Working VPN Services that can Bypass the Great Firewall of China
Here are the tested & proven seven (7) VPN apps you can use to bypass the state censorship and Internet blocking from the Great Firewall of China.
---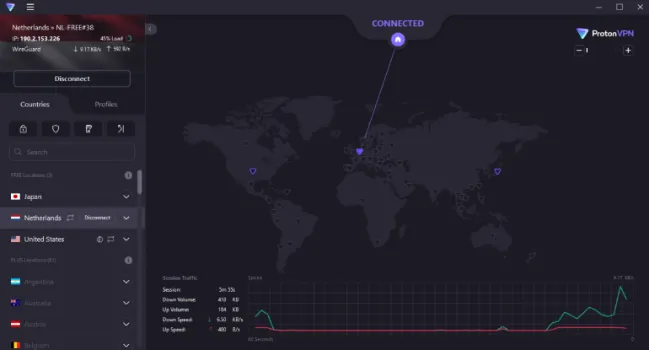 Released in 2017, ProtonVPN was developed by the Swiss company Proton AG, famous for its encrypted email service, ProtonMail.
The secure VPN service uses alternative routing, an anti-censoring system to access the web when the government, ISP or network administrator has attempted to block Proton's services online.
ProtonVPN is also commonly used to unblock online media services, e.g. Netflix so that users can watch more geographical-restricted video content.
Useful Features:
60+ countries with over 1,800+ servers to choose from
It does not serve ads and sell your browsing history
Uses VPN Accelerator to improve VPN connection stability and increase VPN speeds
Unlimited bandwidth with Perfect Forward Secrecy encryption protection
---
2. NordVPN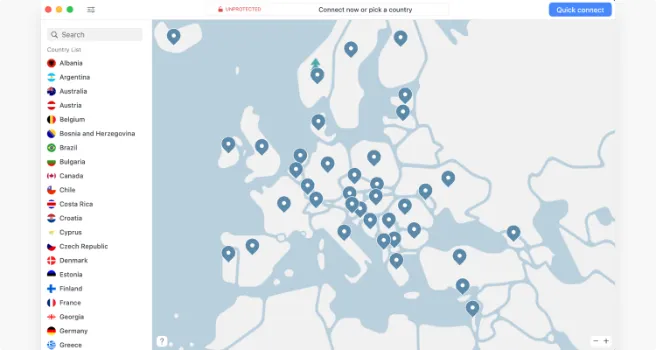 Launched in 2012 and headquartered in Panama City, NordVPN uses obfuscated servers (specialized VPN servers) to hide the fact that you are using a VPN to re-route your internet traffic.
As a result, your ISP, your destination site, and the Great Firewall of China will not be able to block VPN traffic as your data packets look normal.
NordVPN also offers Onion over VPN to provide users with maximum privacy and encryption using Onion Router.
Useful Features:
Connect up to 6 devices
Choose from 5200+ servers in 59 countries
Connect up to 6 devices with split tunneling support
Threat protection from malware and CyberSec shield for blocking web trackers and blocking malicious websites.
---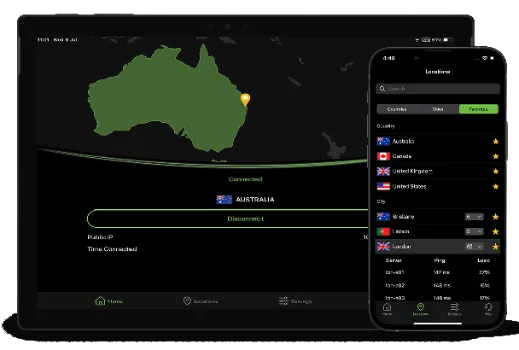 Launched in 2012, IPVanish is a U.S. company that provides VPN services by funneling users' internet traffic through remote services while hiding IP addresses used by them.
The VPN service is well-known for bypassing internet censorship and geo-restricted content in online gaming, where certain games are regionally restricted due to licensing issues.
IPVanish has a KillSwitch mode that prevents accidental web browsing without a secure VPN connection if the current VPN server is down.
Useful Features:
Choose from over 2000+ servers in more than 75 countries
Independently verified no-logs policy to protect users' privacy
Unmetered connection bandwidth and unlimited connected devices
---
4. TorGuard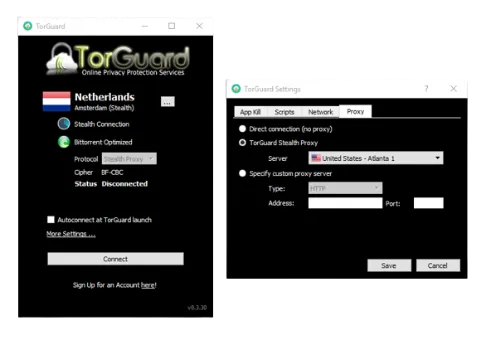 Based in Germany, TorGuard is an anonymous VPN service used primarily for users to stream German online content by bypassing internet censorship restrictions.
TorGuard Stealth VPN mode is a privacy feature that can bypass the deep packet inspection (DPI) firewall, such as the Great Firewall of China, by appearing as regular HTTPS traffic.
TorGuard is custom developed to bypass the censorship imposed by China, using OpenVPN obfuscation methods.
Useful Features:
TorGuard Stealth VPN mode is available in 30+ countries and 300+ VPN servers.
TorGuard normal VPN mode is available in 50+ countries and 3000+ VPN servers
Encryption with AES-256, DNS/IPV6/WebRTC leak blocking
---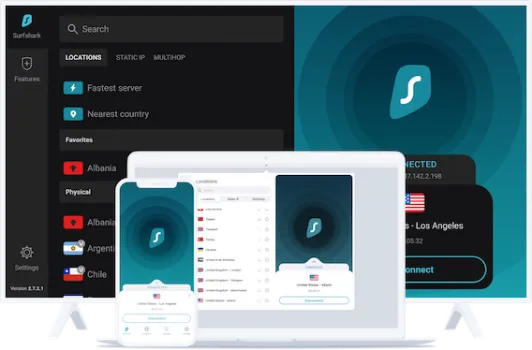 Launched in 2018 and located in the Netherlands, SurfShark recently won CNET's 2022 Best Overall VPN list and Best VPN by Trusted Reviews Awards in 2021.
To use SurfShark in China, you must enable Camouflage mode so that ISP will not be able to tell if you are using a VPN connection and enable NoBorders mode for use in geo-restricted areas.
The VPN service uses OpenVPN, IKEv2 and WireGuard tunnelling protocols and AES-256-GCM encryption standards for bypassing internet restrictions and state censorship.
Useful Features:
GPS-Spoofing for Android to hide the device's physical geolocation
3200+ servers in 100 countries to choose from
Use on unlimited devices
---
6. WindScribe VPN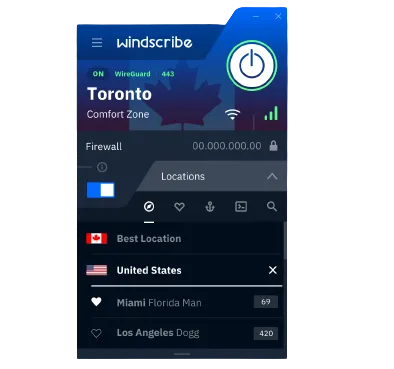 Based in Canada, WindScribe is a VPN service that supports P2P sharing (e.g. using torrents) and bypassing blocked internet content.
WindScribe VPN circumvents censorship by masking your IP address to allow unrestricted and private access to blocked content in over 69 countries.
The VPN service encrypts users' internet browsing activities and prevents DNS leaks from revealing users' identities.
When connecting to certain countries, WindScribe may indicate a crossed-out P2P icon. This means users should exercise caution and not engage in P2P sharing in this location for security reasons.
Useful Features:
Support servers from over 69 countries
Install on many platforms, e.g. Windows/macOS/Linux/Android/iOS/TV/Router/etc
Encryption uses an AES-256 cipher with SHA512 auth and a 4096-bit RSA key with Perfect Forward Secrecy.
---
7. Sentinel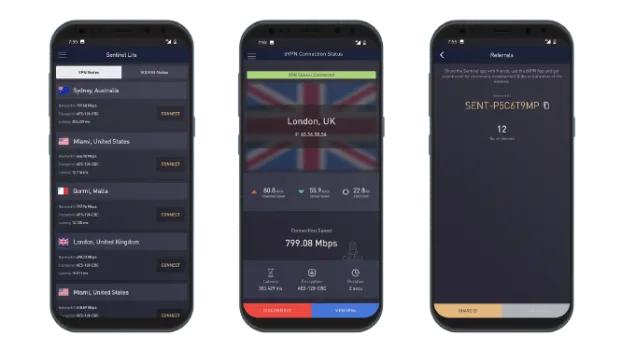 Sentinel is a decentralized VPN (dVPN) application network that uses peer-to-peer user nodes to create a functional bandwidth network that enables private and censorship-resistant internet connection for users.
The code behind Sentinel is open source, and servers are located worldwide by the community.
Useful Features:
It uses a distributed architecture and multi-protocol implementation to bypass censorship blocking.
Sentinel doesn't control and own exit nodes, so you get safe and secure privacy.
End-to-end encryption with no exceptions
For Android and iOS devices, download Solar dVPN.
For macOS and Linux, download Meile dVPN.
---
Conclusion
China has its own equivalent of web services. It censors and blocks the Internet. For example, most Chinese users use Baidu for internet searching and use Douyin, Weibo, Tudou, etc., for social app activities.
Some reasons for doing so include supporting homegrown Chinese firms and preventing foreign apps from collecting their citizens' data.
Installing and registering these VPN apps on your device (mobile or computer) BEFORE you travel to Mainland China is very important.
You will not be able to access most VPN websites or download any VPN apps on your App Store or Play Store once you are physically there.
Install as many VPN apps as possible (listed in this article) to safeguard yourself and ensure you have a high chance of bypassing the Great Firewall of China.
---