When using the Tails OS or the Tor web browser on your Android mobile device, you encounter an error message saying "Proxy Server Refused Connection".
There are several ways to troubleshoot, rectify and fix this problem.
Although your Android device is unlikely to be configured for any proxy server, this error is a common one that many will encounter.
How to FIX the "Proxy Server Refused Connection" error when using the Tor browser on Android
Here are the seven (7) ways you can use to solve this problem.
---
1. Configure Tor Bridges
Make sure you are using the obfs4 bridge for your Tor browser.
Follow the steps below;
Open the Tor browser from your phone
Go to <Settings> on the top-right
Select <Config Bridge>
Toggle ON <Use a Bridge>
Select <obfs4>
Check again if the Tor browser is connected now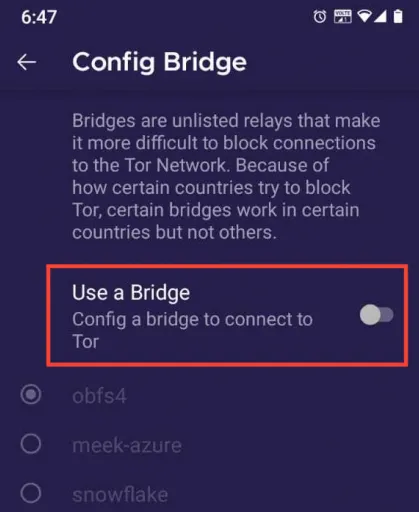 ---
2. Check VPN and DNS
Disable any VPN services (e.g. NordVPN, ExpressVPN) if you are running one. This is because a VPN may cause a conflict with the Tor browser at times, although they can both co-exist together.
On a mobile phone, go to <Settings>, choose <Connections>, <More connection settings> and select <Private DNS>. Make sure that your private DNS is set to <AUTOMATIC>. Re-start the Tor browser and check if it establishes a connection.
---
3. Disable Antivirus / Security app
Sometimes your antivirus or security app may interfere with the Tor web browser.
Try to disable the antivirus program and restart Tor to see if this is causing the problem.
---
4. Keep the original Tor folder
Do not move the original Tor folder directory to another directory. Doing so can cause the Tor browser to stop unexpectedly and encounter this error message, which the browser cannot connect to itself.
Move the Tor folder back to its position and try connecting the Tor web browser again.
---
5. Update Tor Browser to the latest version
Make sure that you are downloading and using the official Tor browser. You can get the apk files through the official Tor Project website or install the browser directly through the official Play Store page.
---
Summary
Always do the primary troubleshooting method of restarting your device and opening the Tor browser again.
If this does not work, you can always re-install the Tor browser and try again.
Using Tor is a slow connection to access the Internet or the dark web. If you are using a VPN service as an extra layer of security protection, expect a very slow connection speed.
This slow speed can sometimes cause connection problems. Try disabling VPN and other antivirus & security applications.
---