A virtual number is an actual phone number without a physical SIM card. It is commonly installed as a desktop application and as a mobile app.
Virtual mobile numbers can be used for sending & receiving SMS text messages and making local & international calls.
Besides using virtual numbers for receiving SMS OTP codes, they can act as a secondary phone number (without a physical SIM) and can be used for other means, e.g., business, travel, online dating, etc.
Virtual numbers are commonly used to register for online services like WhatsApp, Telegram, or other chat apps.
Here's a quick summary of the most suitable apps based on your needs and preferences.
Note that free virtual numbers are always used quickly whenever they are listed online for social media sites and email registration purposes.
Always consider getting a paid virtual number if you want a fresh unused one. These temporary numbers are affordable, and you can always extend their validity whenever possible.
How to Get Virtual Phone Numbers for Receiving SMS Verification Codes?
Here are the nine (9) ways to do so.
---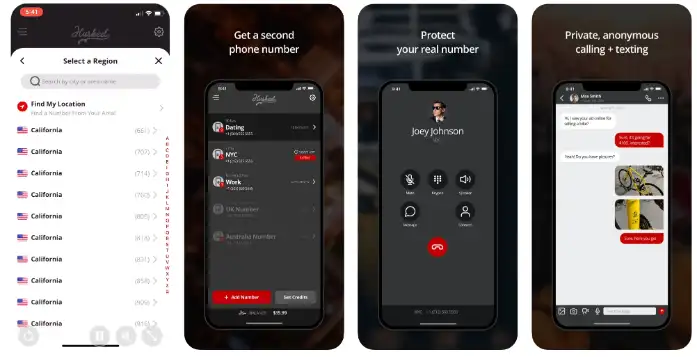 Hushed is one of those apps that you can use to buy a prepaid mobile number online.
You can receive SMS verification codes (OTP), make calls, have custom voicemail greetings, call forwarding, and many other features.
You can get a single mobile number for as low as $1.99 for a limited number of days (e.g., 7 days)
Install the Hushed app on your mobile phone.
Choose the country of the mobile number you want, e.g, from Canada or the U.K.
Every purchased mobile number is renewable before the expiry date.
Payment methods include in-app purchases through PlayStore and AppStore, Bitcoin, and credit cards through the Hushed app portal.
---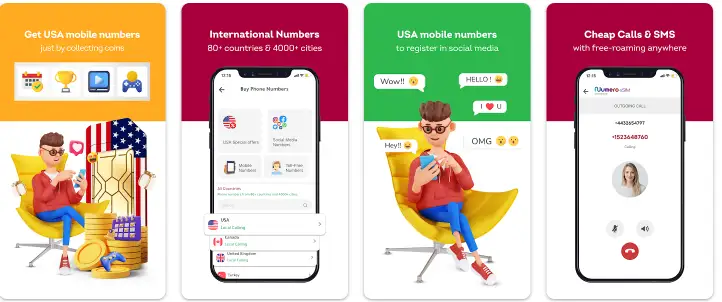 Numero eSIM acts as a secondary mobile number for users to make cheap calls with the ability to send and receive SMS messages. In addition, you can use it to get SMS verification codes.
Users receive free calls anywhere when using Numero eSIM. This only applies to incoming calls.
You can make local and international calls at almost local rates.
You can choose virtual numbers from over 80+ countries and over 4000+ cities.
Make calls and receive SMS messages.
International WiFi calling at local rates with Local calling plans.
Voicemail and Call forwarding features
Privacy Caller-ID (hide your number) for local and international calls
---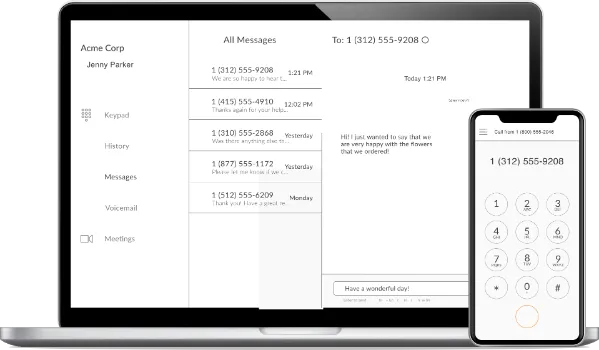 Talkroute is a virtual phone system suitable for businesses and individuals who are always on the move.
Users can work using their desktop computers, web browsers, and mobile devices to make & receive calls, manage SMS texts, and respond to voicemail messages.
Talkroute has a detailed history reporting feature that retrieves call data with various options (e.g., sort by a caller or specific mailbox).
Local, toll-free, 800, and vanity phone numbers
Hosting video meetings with video conferencing with up to 100 participants
Unlimited 3 or 4-digit direct dial extensions
Custom greetings and call recordings
---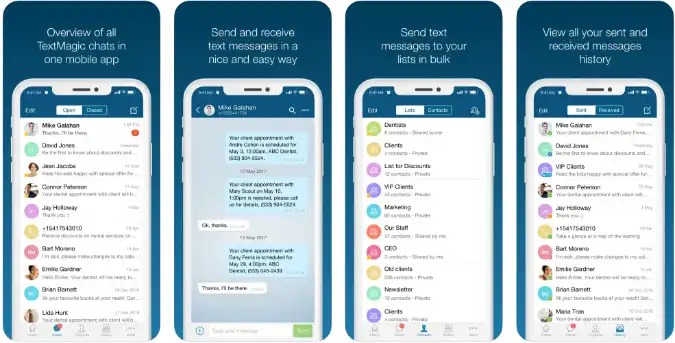 TextMagic is an SMS text messaging marketing campaign software that packs several features, including the ability to send and receive SMS text messages online using its two-way chat features.
You can use that to receive SMS verification OTP codes for web services, such as registering for Gmail and signing up for social media sites.
One helpful feature is enabling users a quick and cost-effective way to send bulk (mass) messages anywhere in the world.
TextMagic has global SMS coverage with access to over 1,000 mobile networks across 190+ countries. With that, you can safely receive SMS messages from any country worldwide.
Choose virtual numbers from over 25+ countries for promotional campaigns, customer support, etc.
Send & receive SMS messages and MMS attachments.
Sub-accounts for team members with reporting and analytics features
---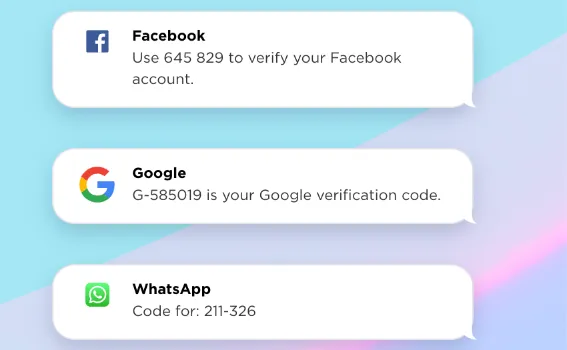 OnlineSIM is an online phone service that provides free virtual mobile numbers for users so they can have private registration on various sites, services, and platforms.
These online numbers are on short and long-term virtual number renting models.
The company has access to virtual numbers from over 90+ countries and more than 1 million numbers.
You can rent a number for as short as ten (10) minutes to an hour. In addition, you can extend the number's validity or cancel it anytime.
You can use OnlineSIM to receive SMS verification codes by signing up for services such as Gmail, Facebook, Whatsapp, and many others.
---
Quackr is entirely free to use, with no signups required.
You can use Quackr as a secure temporary phone number instead of using your actual phone number on the Internet.
You can send & receive SMS text messages from the U.S., U.K., and 22 other countries using your virtual phone number.
The site updates and adds new temporary phone numbers every month.
You can use these temporary virtual numbers for setting up accounts on Facebook, WhatsApp, PayPal, Uber, Tencent, cryptocurrency exchanges & many more.
---
SMSReceiveFree can get SMS text messages from all over the world. In addition, these virtual numbers can be used to verify and register for websites like Twitter and Google.
All messages and phone numbers are thrown away after seven (7) days.
Every month, new virtual phone numbers are added to the list.
Even if the sender is located in a different nation, these virtual mobile numbers can still receive messages from anywhere in the world.
---
AnonymSMS is a completely free online service that lets you receive SMS messages without entering your mobile or cell phone number.
These temporary numbers are based on a genuine SIM, and new virtual numbers are added daily.
In most cases, communications are received immediately. Hit the refresh button to get to it. After a while, all visible and utilized virtual numbers will become inactive, and you can choose another number to use.
---
TemporaryPhoneNumber is a free service that allows you to use its virtual temporary phone numbers to receive SMS text messages anonymously online from anywhere in the world, regardless of your location. 
TemporaryPhoneNumber is free to use without needing to pay any fees, and no need for user registration.
Incoming SMS messages are automatically refreshed on the page between 5 seconds to 60 seconds intervals.
---