Using WhatsApp to send videos and photo is a common way to share media files.
However, WhatsApp does have a limit to the maximum allowed file size when it comes to sending files over their network.
This article will focus on how to send large files, like videos, to your WhatsApp recipient and bypass the video size restriction.
What is the File Size Limit for Sending Videos on WhatsApp?
Whatsapp has a maximum 16MB file attachment size limit, regardless if it is a video, image, or document file type.
How to Bypass or Increase the WhatsApp Video Size Limit
Here are the five (5) ways you can send large video files over WhatsApp.
---
Method 1: Send via Video Streaming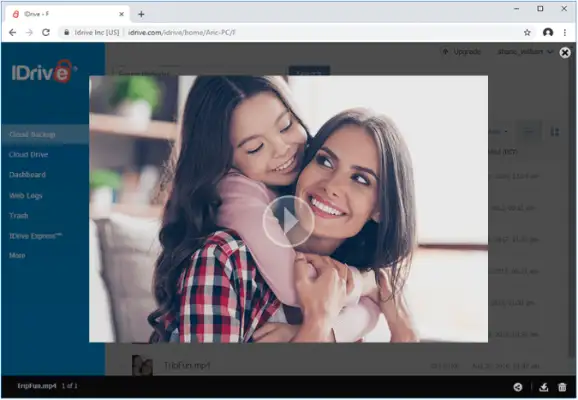 You will upload your video to a cloud service that supports video streaming and share the link with the WhatsApp recipient.
There is no limit to the file size and video resolution (e.g., 4K or 8K) when you choose this method, as long as the cloud service you chose allows for it.
pCloud
pCloud is a cloud-based online storage service that allows users to upload media files (photos and videos) for storage backup and file-sharing purposes.
The cloud storage service is free to register and comes with 10 GB of free storage space.
When sending the recipient a pCloud link, they can watch the video through web streaming using pCloud's built-in media player.
pCloud works directly with iOS, Android, Windows, macOS & Linux devices.
You can sign in to pCloud quickly using your existing Apple ID, Gmail, or Facebook account or a separate email account.
iDrive
iDrive is an online backup storage solution with a built-in media player for video streaming.
You can stream video files (i.e., MP4, WebM, and FLV file formats) directly from the iDrive link using your web browser.
It comes with a free 10 GB of storage with unlimited connected devices. This means you can use and sync it on multiple devices, e.g., mobile phones and desktop computers.
iDrive is compatible with devices running iOS, Android, Windows, macOS & Linux operating systems.
---
Method 2: Allow the Recipient to Download the Video
If you want your recipient to be able to download the entire video onto their device, then this method is for you.
You upload your video to a reliable file-hosting site and send the link to the recipient. They will then download it onto their device.
Here are some of the file-hosting sites you can use;
MEGA (no upload cap, can be as high as 3TB per file size upload)
Google Drive (depends on account plan)
FileFactory (max. 5GB per file upload on the free plan)
---
Method 3: Use an Online Compression Service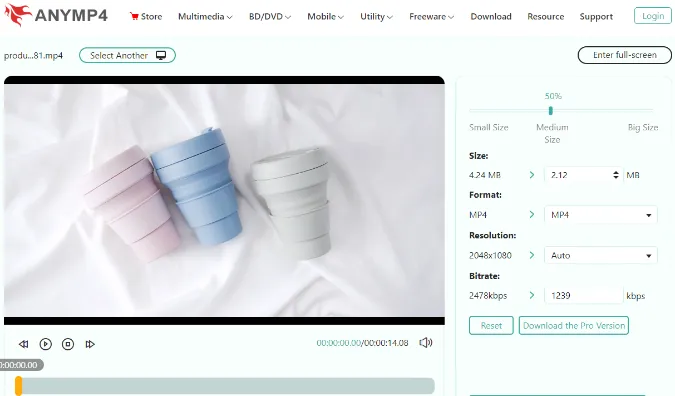 There are several online video editors, and the most important criterion is whether they can perform video compression without watermarks and support the most popular video file formats.
Here are some that fit the criteria.
EchoWave
EchoWave is a simple online video editor that supports most video file types and does more than just video compression.
You can add subtitles, add video overlay, add an audio track, edit an audio visualizer, and add watermarks, among many other features.
Video Compressor
AnyMP4 Video Compressor is a free video compressor that helps to reduce file size while keeping the original quality.
The free online service shrinks video size with no watermarks and has no upload file size limit. You can upload gigabytes of the video file and use it for video compression.
---
Method 4: Use Video Compression Apps
For mobile devices, consider installing the following apps;
For desktop, you can use VideoLan (VLC) or QuickTime player. Below are the steps to do video compression on both tools.
VLC Player (for PC, macOS, iOS & Android)
VLC player is a popular lightweight and universal player. It can be installed on PC, Mac, iOS, and Android devices.
Go to <File> and choose <Convert / Stream>
Click <Open Media> and select the video file you want to compress
Choose a Profile preset
Click <Customize> to adjust the bitrate and video codec settings
Click <Apply> and <Save as file> to save your compressed file.
QuickTime (for Mac)
For macOS users, you can use the built-in QuickTime player to do a simple video compression on your video.
Open the video file with the QuickTime player
Go to <File> and choose <Export As>
Choose the resolution (e.g. 4K or 480p)
---
Method 5: Trim the Video Length
Depending on your preference. sometimes the best way is to trim (edit) it slightly to reduce the video file size. This is typically done at the beginning or toward the end of the video to have minimal impact on the video's content.
Filmora
For both desktop and mobile devices, you can try Filmora. The video editing app is available on PC, macOS, iOS, and Android platforms.
Besides basic editing and video compression features, the app also offers the following;
Add animoji selfie video and compelling visuals
Royalty-free music and sound effects
Custom voiceover
---