Sometimes you will come across YouTube videos that cannot be played, and you get this error message below.
YouTube's regional blocking causes this error message, or in other words, it is YouTube's restricted content based on the geographical locations of the viewers.
This is sometimes referred to as "geo-fencing".
What is this happening?
YouTube's publishers may, at their discretion, decide to restrict & block their videos from being viewable by viewers in specific countries due to ownership of rights.
As a result, viewers cannot watch these YouTube videos from where they are physically located.
How to FIX the "Video Unavailable In Your Country" error message on YouTube
In this article, I will show you seven (7) ways that you can use to bypass YouTube's region-blocked content that is unavailable in your country.
---
1. Using a reliable VPN to spoof your location
The best-proven way by far is to use a reliable VPN to bypass all YouTube-restricted content.
With a trusted VPN service, you can enjoy all the following benefits and much more.
Watch geo-restricted, unavailable & blocked Youtube video content.
Change your IP address and country to anonymize yourself online
Download bit torrents anonymously
Bypass school-restricted and country-restricted websites, such as the Great Firewall of China.
I have tested several VPN services over the years, and these are the ones you can rely on for all your Youtube needs.
They are;
NordVPN (most number of servers in different countries)
IPVanish (supports all platforms, routers and TVs)
ProtonVPN (free plan available for iOS, Android, Windows & macOS)
You can get some of these proven VPNs for as low as USD 2 per month.
---
2. Using a trustworthy web proxy server
Like a VPN, a web proxy server acts as a middleman between the world wide web and your digital device.
Proxies servers are mainly free to use, and one can easily configure them to web browsers.
The strength of a web proxy lies in its ability to mask IP addresses, thus suitable for anonymously browsing the internet and circumventing restricted content imposed by, for example, the government.
You need to find some free anonymous proxy lists to set up a proxy server online.
You will see something like this (image below).

Once you have the list, go to your Chrome web browser and select Preferences.
Under [Advanced], go to [Systems].
Click [Open your computer's proxy settings] and enter your proxy address and port number (image below).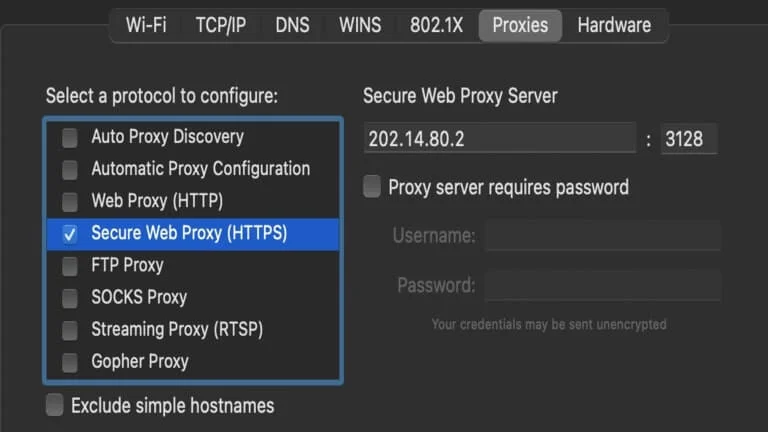 Click "Ok", and you are done.
Always check if your new IP address and location are working correctly by either of the following sites;
---
3. Tweaking the YouTube URL
You need to change your Google location and tweak the YouTube URL.
The first step, go to the bottom right of your Google Homepage and click on [Settings].

Under [Region Settings], choose the country you want to see Google results based on.
For example, if you are not in the US, you could select [United States] to see US-based restricted YouTube content.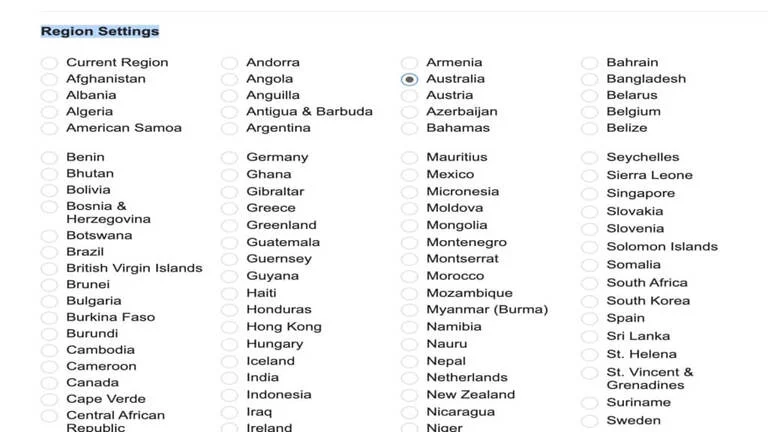 ---
4. Tweak the YouTube URL
You need to tweak the YouTube URL slightly by removing the word "watch?"
See the example below on how to do it.
https://www.youtube.com/watch?v=64s8ujoydRM     (Original URL)

https://www.youtube.com/v/64s8ujoydRM           (Tweaked URL)
Copy and paste the tweaked URL onto your web browser.
Use Incognito Mode on Chrome web browser.
This method is effective for several types of restricted & regional blocking YouTube content.
However, if this method doesn't work, you must use the VPN above.
---
5. Download Youtube Videos Offline
The two (2) recommendations stated below consist of downloading the entire YouTube video offline onto your device so you can watch it later.
By doing so, YouTube's blocked content can be bypassed without the "streaming" process.
For 3rd party online services, you can use Snappea.
Copy and paste the YouTube URL onto Snappea, and you can now easily rip the whole video onto your device.
The image below shows Snappea offering offline video downloads for a blocked and restricted YouTube video.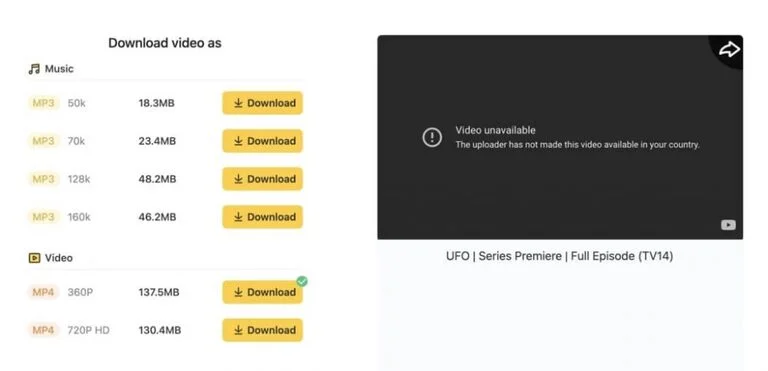 For specialized tools that require installation, try Freemake Youtube Video Downloader.
This tool supports both Windows and Mac operating systems.
One key feature is unlocking and saving unavailable Youtube videos with a proxy.
It can download videos from over 10,000 sites, including Youtube and offers output in different formats, such as HD and MP4.
---
6. Chrome web browser extensions
We access the web using our web browsers; thus, installing addons to overcome Youtube's geofencing makes total sense.
ProxFlow is a free & straightforward chrome extension that does its job selectively.
You can access sites with country restrictions, like Youtube, Pandora, Grooveshark, etc.
ProxTube is a web browser extension that supports Firefox and Chrome web browsers.
Once installed, a button will be added to the browser navigation toolbar for toggling between turning on and disabling it.
The extension uses an American proxy server to unblock YouTube videos.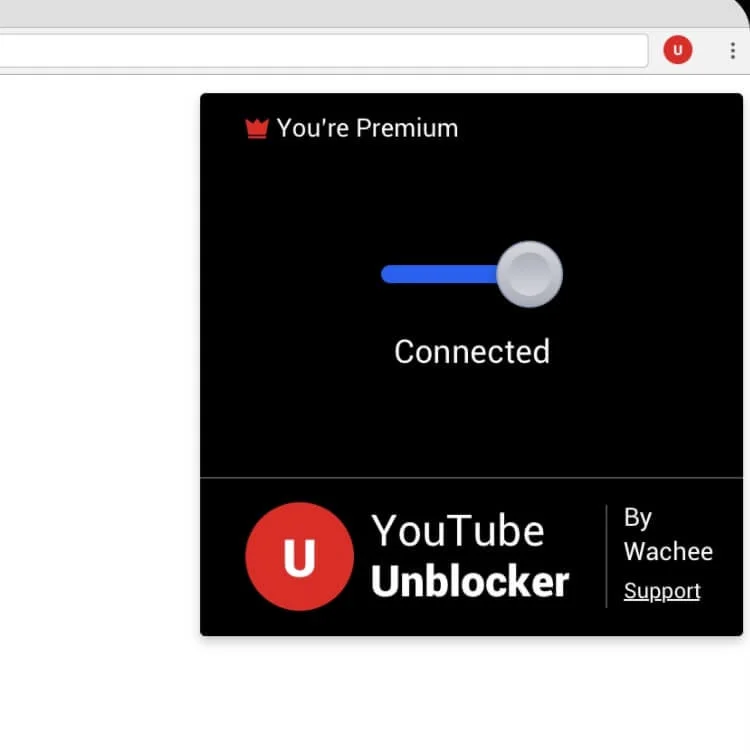 Also, a chrome extension, Unblocker for YouTube, can unblock region-blocked content sites like Netflix, Hulu and Youtube.
You can use this if YouTube has been blocked in your country or some of its content has been geo-restricted.
The chromium browser is supported as well.
---
7. Alternative YouTube Bypass
Besides those mentioned above, these notable mentions can work well.
Invidious is an alternative front-end to Youtube that doesn't use Youtube API. It is lightweight, with no ads and no tracking.
As it is an open-source project built on GitHub, you can take part in the project here.
You can use its privacy features to watch geo-restricted and blocked Youtube content.
You can choose any available Invidious instances, host your own instance or visit the popular Invidious instance here.
FilterByPass is a free anonymous web proxy service that works most of the time.
The proxies will fetch the webpage and redirect you to a unique encrypted proxy page containing the page's content.
You can use it on most social media platforms like Youtube, Facebook, Twitter, and more.
---
Summary
The best and proven way to bypass Youtube's geo-restricted content is to use a trusted VPN service like NordVPN or ProtonVPN.
It is a guaranteed way to play these blocked videos.
For a small sum of a few dollars a month, not only using it on Youtube, you can use it anywhere else, be it for torrenting, streaming from Netflix, accessing blocked websites, etc.
If you are looking for a free method, then any of the methods stated here should work for you, as we tested them all.
Why are some Youtube videos blocked?
YouTube videos can be blocked in four (4) different ways.
Firstly, at work where the firewall is used to block Youtube on office networks. Secondly, at school to prevent students from accessing it during class. Thirdly, by the government as a form of internet censorship for political reasons. Lastly, Youtube is also blocked by content creators who intentionally restrict viewers from certain countries due to rights issues.
---