It is essential, at times, to remove file metadata from your PDF and Microsoft Word documents, especially those you need to send to external parties, such as sending your job resume or CV in PDF and Word format.
Metadata can contain embarrassing information, such as author, number of revisions, number of printed times, last edited by, file creation date, etc.
How to Remove Metadata from PDF and Microsoft Word files?
Depending on your setup and preference, several different ways to delete metadata from both Word and PDF files exist.
Here are the four (4) different ways to do so.
---
1. Using ExifTool by Phil Harvey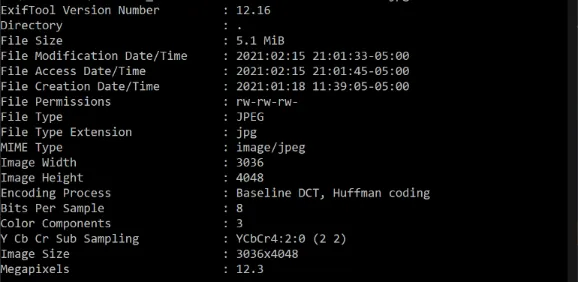 ExifTool by Phil Harvey is probably the most popular lightweight EXIF metadata viewer. It is an easy-to-use command-line interface application that supports Windows, macOS and Linux operating systems.
You can use ExifTool to remove metadata from both MS Word and PDF files.
Install your OS version from their official website, and always check your file metadata before removing it.
To view the metadata of your file, use this;
exiftool <filename>
To remove all metadata, use the following command;
exiftool -all= -overwrite_original <filename>
---
2. Using Online Metadata Removing Tools
For less-sensitive PDF and Word documents, you can consider using online metadata-removing tools such as;
---
3. Using Office Settings
For Word documents, you can use Office Settings to remove its metadata.
Open the Word document and follow the steps below:
Go to the File Tab
Select <Info>
Select <Check for Issues>
Select <Inspect Document>
Select the content you want Word to check for metadata
Click <Remove All>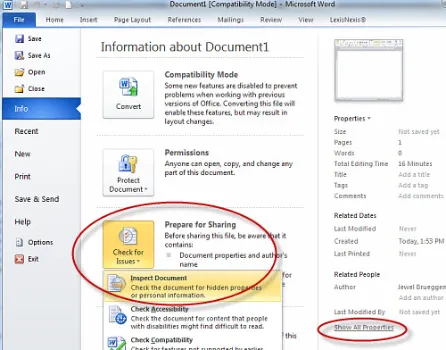 If you are using Office for Mac, open your Word document, go to <Tools> menu, select <Protect Document> and check the box that says <Remove personal information from this file on save>.
---
4. Using Adobe Acrobat Settings for PDFs
If you are using Adobe Acrobat, you can use its settings to remove the PDF metadata.
Follow the steps below:
Select the Tools pane
Click on the Protection group.
Scroll down to the Hidden Information group.
Select Remove Hidden Data
Click on Expand All to preview the Results.
Click Remove to delete selected items.
Changes are not permanent until the document is saved.
---