Video files can contain EXIF data and other sensitive metadata information, such as GPS location (longitude & latitude coordinates), file creation and modified timestamps, etc. Using macOS, you can delete these metadata from the video files.
Before you can remove, you need to make sure these video files really contain EXIF data and other metadata values.
To correctly view the EXIF metadata of video files, you should install EXIFTool by Phil Harvey. It supports Windows and macOS operating systems.
Related Post: How to Install and Use ExifTool by Phil Harvey [For PC, Mac and Linux]
Once you have check with ExifTool, now it is time to remove the metadata.
How to Remove Video EXIF Metadata using macOS?
These are the two (2) metadata removal tools that you can use on Mac.
---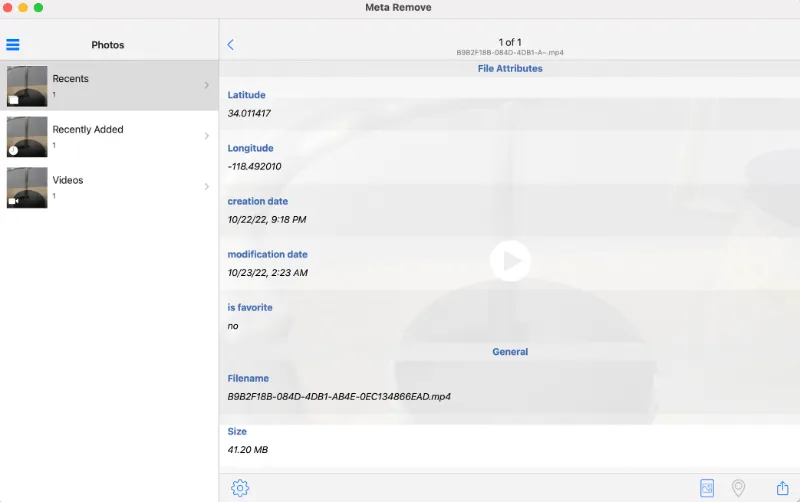 Photo & Video Metadata Remover is a lightweight macOS application that removes EXIF data and other sensitive metadata from both image and video files.
The app open up the target image or video file and display all the EXIF and metadata information available.
User can decide if they want to fully clear all the metadata that is embedded into the file.
It supports .mp4, .mkv and other popular video formats.

---

You can use ExifTool by Phil Harvey to view metadata, as well as removing EXIF data and other metadata information.
To delete metadata using ExifTool, navigate the Terminal app to the video file directory and use the command below;
exiftool -all= video.mp4
Exiftool will renamed your original video file. Your original video file (with metadata) will be renamed as "video.mp4-original". Note the -original name at the end of the filename.
The newly created video file with no metadata will be called video.mp4.

ExifTool supports a wide variety of video formats, such as mp4, mkv, 3gp, avi, divx, flv and many more.
---