When you are using macOS, there are several ways to preview and open the AVIF image file format.
Developed by the Alliance for Open Media with participating members such as Amazon, Google and Microsoft, the AVIF Image File format (.avif) is a compressed image file that competes with the likes of JPEG and WebP formats.
How to open and view AVIF image file format on Mac?
Here are the seven (7) different methods you can use to open AVIF files on a Mac computer.
---
1. Open with a Web browser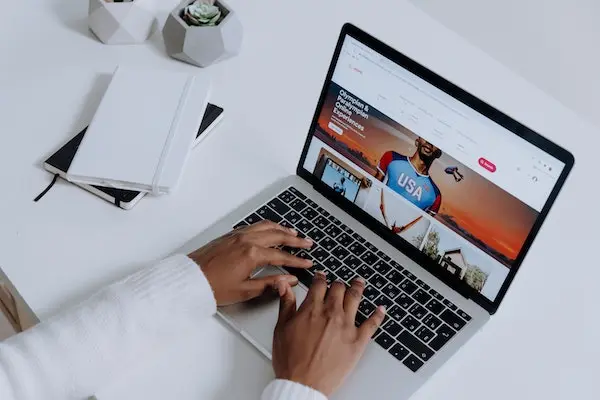 Several web browsers now have support for the AVIF image format.
At the time of this article, you can use Google Chrome, Brave browser and Firefox browser to view the image.
Currently, the Safari browser does not support opening AVIF format, but this may change in the near future.
To view the AVIF format using your web browser, do the following;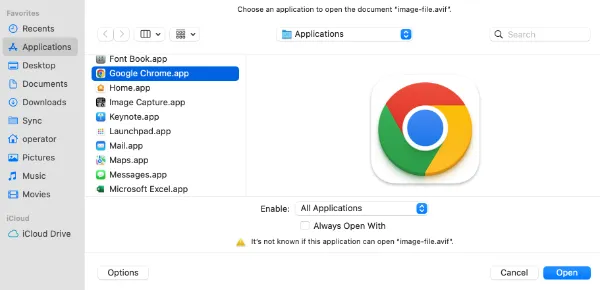 Right-click on the AVIF file, choose <Open With> and select <Other>
Select <All Applications> from the drop-down menu in the Enable option.
Choose Google Chrome on the left pane and click <Open>
You can now view your AVIF image file using the Chrome browser.
---
2. Use PhotoKit AVIF Image Viewer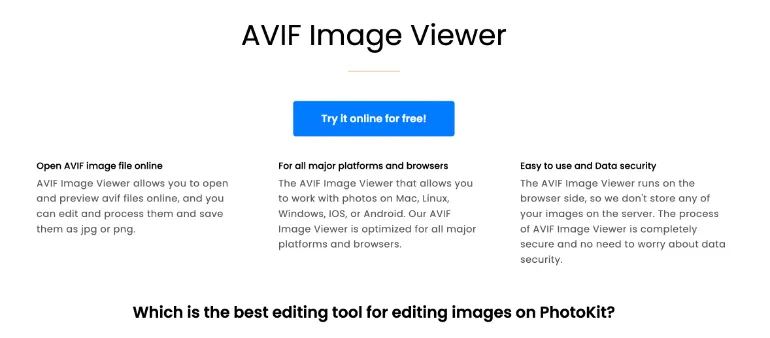 Photokit AVIF Image Viewer is an online AVIF image viewing and editing service that runs on the web browser side and not on the site's server.
You upload your AVIF file and preview them through your web browser. Then, you can edit the image file using a wide range of tools, such as adjusting exposure, correction, using the palette, inserting sketching or even adding cartoons.
After editing, you can save them in jpg or png format.
---
3. Open with Preview.app
Depending on your macOS version, you can try opening the AVIF image file using the Mac Preview app.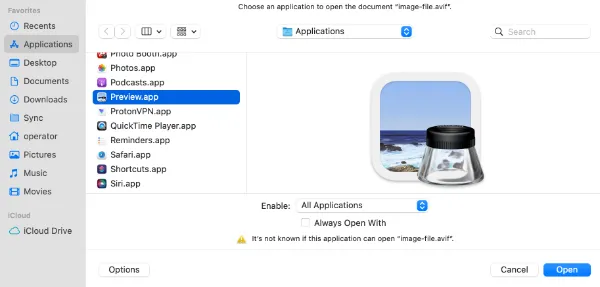 Try the following;
Right-click on the AVIF image file, choose <Open With> and select <Other>
Select <All Applications> from the drop-down menu in the Enable option.
Choose Preview.app on the left pane and click <Open>
---
4. Install XnViewMP for Mac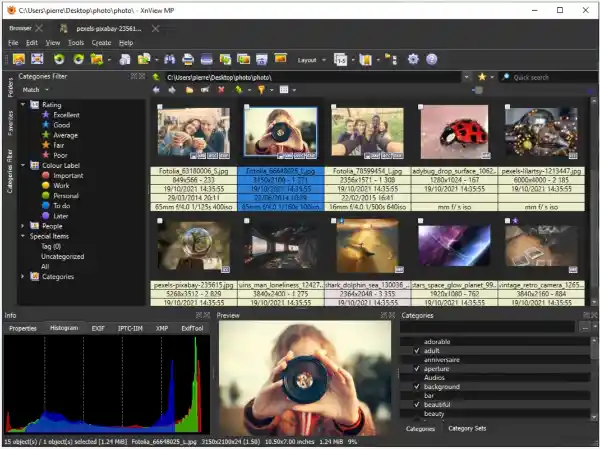 XnViewMP is a versatile photo viewer and editor that supports a wide range of image formats and supports Windows, Mac and Linux.
You can use XnViewMP to view AVIF formats in thumbnail view, fullscreen view, image compare, view EXIF metadata and many more.
For editing features, the powerful image viewer support resizing, cropping, lossless rotation, adding of filters & effects, etc.
XnViewMP supports over 500 image formats, including AVIF, TIFF, GIF, JPEG, PNG, etc.
---
5. Install AVIFQuickLook
This is a macOS QuickLook plugin for AVIF image file format and can be found in Github.
To install AVIFQuickLook, do the following;
Grab the latest AVIFQuickLook.qlgenerator from the Release Page, or build using Xcode.
Open Finder
Shift + Command + G, input ~/Library/QuickLook/ and press Enter. For macOS Catalina above, use /Library/QuickLook/ instead.
Drag AVIFQuickLook.qlgenerator into this folder. You may need to enter the password
---
6. Install qView for Mac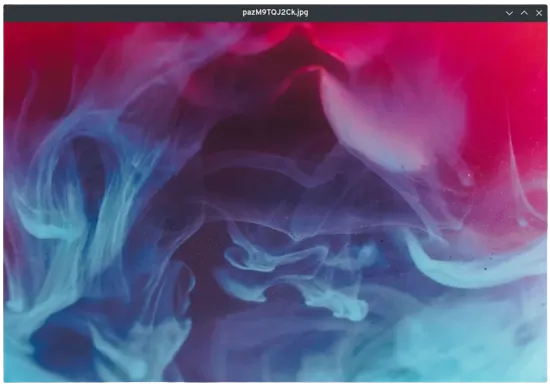 qView is a lightweight and minimalist image viewer for Mac that opens up AVIF file formats and other image files instantly. It runs on low memory and requires low CPU usage.
qView also has other features such as file history, rotation/mirroring and animated GIF controls.
The free and open-source software supports all common image formats including bmp, gif, jpg, png, tiff, and webp.
---
7. Use macOS Ventura and latest iOS version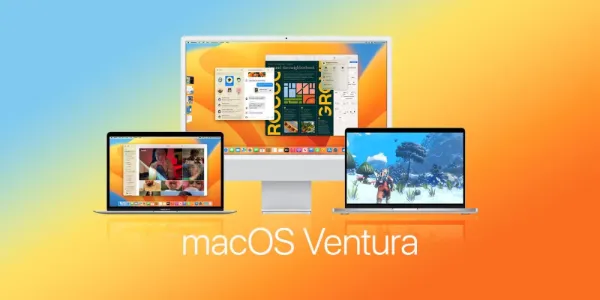 If you are using macOS Ventura, there is already a built-in support for opening AVIF image files using Prview and Finder.
Released in October 2022, macOS Ventura has several updates to its predecessor, macOS Monterey, and this includes the native support for AVIF image file format.
To view AVIF images natively, update your Apple devices to make sure they are running the latest betas of iOS 16, iPadOS 16, and macOS Ventura.
---