Telegram is a cloud-based instant messaging service that has grown in popularity in recent years.
One of the main reasons for its popularity is its group chat features, which allow up to 200,000 people in a single group, and its emphasis on privacy and security, with end-to-end encryption and self-destructing messages.
With popularity comes danger, such as malicious attacks and hacking attempts. There are several signs to spot if your telegram account is being hacked or under attack.
This article will focus on what are the things you need to do when your Telegram account gets hacked.
Related Posts: All the warning signs that your Telegram account has been compromised
What To Do When Your Telegram Account Is Hacked and How to Recover It Back?
Here are the seven (7) things you need to consider doing.
---
Method 1. Write to Telegram Support Page

Telegram has a dedicated Support Page on its website for users to report technical issues and difficulties.
You can use this webpage to submit your request so that the correct technical staff can look into your matter.
From here, provide the following details;
Description of what happened prior to this incident
Your name and email address
Your Telegram username
Your location (country) before the account was hacked
Please state if you are on a VPN connection while using Telegram.
---
Method 2. Email Telegram
Email Telegram stating your hacked situation and explaining what happened prior to the hacking incident.
You can send it to either of these three (3) email addresses (or include all of them in the email cc list);
The waiting time is generally between one (1) to five (5) working days.
Make sure you check your inbox regularly.
---
Method 3. Terminate Active Sessions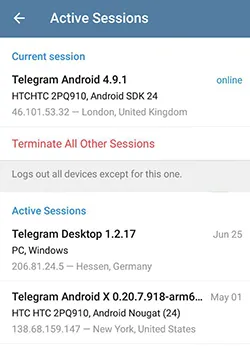 If you still have access to your Telegram account and suspect that someone is also connected to your account, you can check your active sessions.
Open the Telegram app, go to Settings > Privacy and Security > Devices
Check if there are any suspicious devices connected to your account. As a rule of thumb, you should have only one device (your phone) connected at any given time.
Terminate all other sessions, if any.
---
Method 4. Change Your Email Password

You have to assume that the hacker has access to your email account, and you must immediately change the email password.
By doing so, the hacker will not have access to the password reset link.
Make sure that your email password is not the same as your Telegram password.
You do not want the hacker to be able to access both accounts in the worst scenario.
If you are using Gmail, go to Settings > Accounts and Import > Change Password
---
Method 5. Change Telegram Passcode
After changing your email password, the telegram password is next.
To prevent the hacker from re-accessing your account again in the future, it is important to change it now.
Go to <Settings> and select <Privacy and Security>
Toggle ON for <Two-Step Verification>
Click <Forgot password>, and resetting instructions will be sent to your email address.
Follow the steps to change your new passcode.
Make sure that 2-step verification is activated on your Telegram account when you finish this step.
---
Method 6. Strengthen Privacy Settings & Device
You need to tighten the privacy settings of your Telegram account.
Go to <Settings>, click <Privacy and Security> and under the <Privacy> subsection, choose the following options;
| | |
| --- | --- |
| Phone number | Nobody |
| Last Seen & Online | Nobody |
| Profile Photos | My Contacts |
| Forwarded Messages | Nobody |
| Calls | My Contacts |
| Groups and Channels | My Contacts |
Also, when your Telegram account is compromised, there is always the likelihood that your device (e.g., phone or PC if you are using Telegram Web) is the weakest link.
Consider installing an antivirus application to remove and deter any malicious programs.
When a spy app is secretly installed and running in the background of your phone or PC, antivirus applications are likely to pick it up and alert you.
---
Method 7. Delete Telegram Account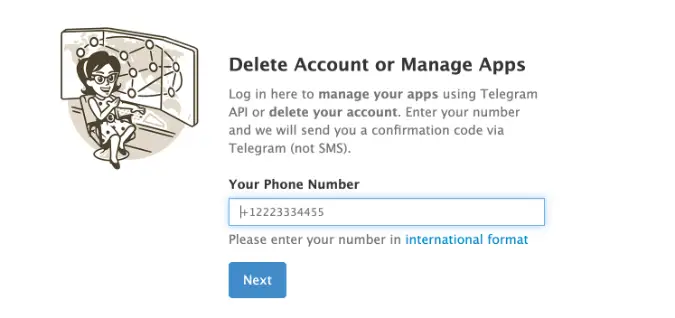 As a last resort, you can choose to permanently delete your account on the Telegram deactivation page.
All you need to do is to provide the mobile number that is used to create your Telegram account on the page.
Note that by doing so, all your messaged and contacts will be deleted.
All the Groups and Channels you created will be orphaned without a creator, while admins retain their rights.
---