With over 700 million+ users worldwide, Telegram is one of the most popular private messaging apps.
Each Telegram account is registered uniquely to one (1) mobile number. Therefore, you cannot register two (2) Telegram accounts with one number.
Telegram lets you add users by Username and contact number.
Unlike Whatsapp, where chats are initiated directly using your phone number, Telegram uses usernames for direct communication. Therefore, everyone can only see each other's usernames (unless they already have your number in their address book).
The mobile number Telegram asks for during signup is only for registration and account recovery purposes.
There are several privacy questions about how our mobile numbers are used and how anonymous Telegram users are.
Will any Telegram user know my number? Or If someone can track you in Telegram?
If I Add Someone on Telegram, Will My Phone Number Be Revealed?
When you register for a new Telegram account, you will provide your mobile number for SMS verification.
Once verified, the default settings in the Telegram app allow your phone contacts (i.e., address book) to see your actual phone number when communicating using Telegram chats.
In short, only your 'friends' who have your number stored in their address book can see your number.
This is done by syncing your phone contacts with Telegram.
To prevent this, you should hide your mobile number under Telegram Settings (see below for how to do so).
Once hidden, any future users you added to Telegram will not be able to see your phone contacts anymore.
In addition to hiding your number, you should ensure that your Profile name and Username does not reveal your real identity. You can change the anytime in Settings.
---
How Can I Hide My Mobile Number in Telegram?
You must configure two (2) options to hide your number from anyone using Telegram.
Here's how to do it.
---
1. Set Privacy on Phone Number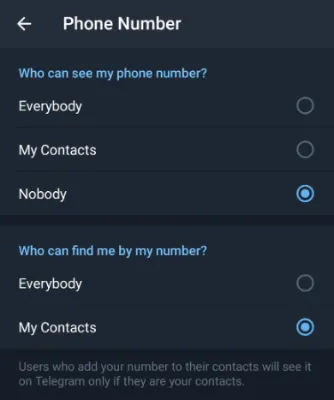 Open the Telegram app and go to <Settings>.
Click <Privacy and Security>
Select <Nobody> for the option "Who can see my phone number?"
Select <My Contacts> for the option "Who can find me by my number?"
In this way, no one can see your phone number in Telegram, and you decide who can search for you on Telegram based on who you kept in your contacts listing.
---
2. Delete Synced Contacts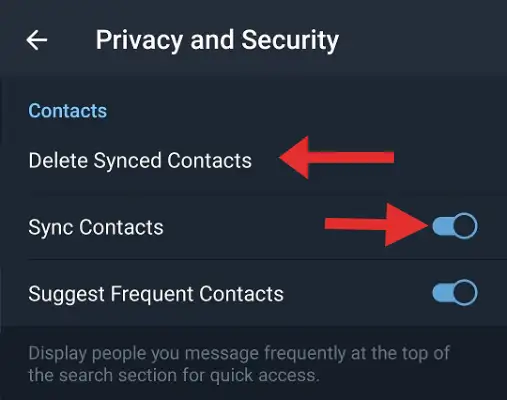 If you have been using Telegram before this, you need to remove synced contacts from your Telegram account.
Open the Telegram app and go to <Settings>
Click <Privacy and Security>
Click <Delete Synced Contacts> to remove your previously-synced contacts from seeing your phone number now.
Toggle OFF <Sync Contacts> to disable contact syncing from now onwards
---
---
Frequently Asked Questions (FAQs)
Here are some of the common questions about Telegram privacy on mobile numbers.
If I add a contact on Telegram, will they know my number?
No. They will not be able to know if you are the only one adding their number.
For them to know your number, the other party needs to know your number and save it under their address book.
How to know if someone saved your number on Telegram?
If the other party registered for Telegram, you will be notified that this person has joined Telegram.
How to find hidden numbers in Telegram?
As mentioned earlier in this article, there is no way to know hidden numbers among Telegram users. You can only see their Profile name and Username.
---